Deciding what to wear for a cosy city break during the colder months can be difficult. You want to pack enough suitable items, but you don't want to go overboard and pack too much, right?
Don't worry, if you stick with us at City Lodgers you can find out about the 12 travel essentials you need to take with you for your Winter get-away.
We're travel experts, so carry on reading to find out what needs putting in your suitcase!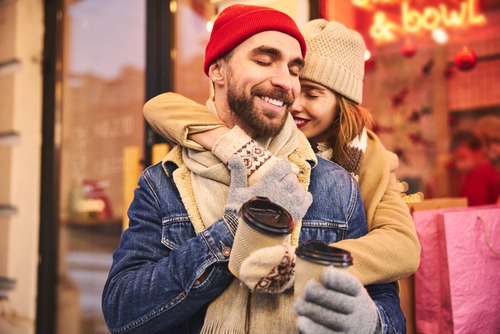 1. Thermal Flask
Our first winter travel essential you need to pack for a cosy city break is a thermal flask.
This is a MUST to keep you warm when you're out and about in the freezing cold weather.
Sure, wearing the right clothing will keep you warm, but so will a hot drink.
Whilst you're walking around and heading to tourist spots on your city break, having a flask will increase your body heat and make you feel nice and toasty.
Chances are, you'll be able to fill it up within your hotel and save some pennies on those all-important pitstops at cafes too.
You can get flasks that come in all different shapes and sizes if you're looking to travel light.
Plus, as long as it's empty, you can pack it within your carryon luggage.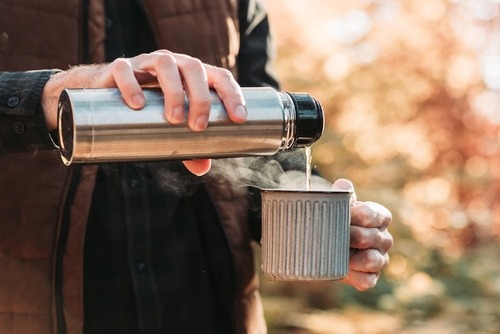 2. Sunscreen
Next within our guide to winter travel essentials for your winter vacation is SPF.
It can be easy to forget to apply sunscreen when there's literally no sun to be seen.
However, even during the Winter months, you need to ensure that you're still applying sun-cream.
This is because UV rays during the winter can be just as harmful to our skin.
The best thing to do is to pack an SPF moisturiser or serum and apply it every day whilst you're on your Winter break.
Of course, you can get away with not applying as much, so you shouldn't worry about remembering to top it up lots throughout the day, like during the summer.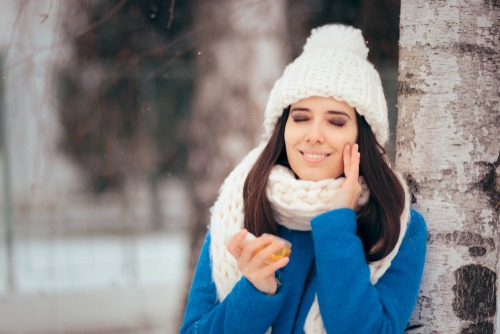 3. Moisturiser
So, you've packed SPF, now it's time to remember to bring along some other important winter travel essentials like moisturiser.
As you're probably aware, during the winter our skin gets dry and dull because of the cold and windy weather.
To make your skin pop off and feel hydrated during your cold weather trip, bring along your fave moisturiser with you.
After all, you want your skin to feel the best during your trip and for all those Insta-pics, eh?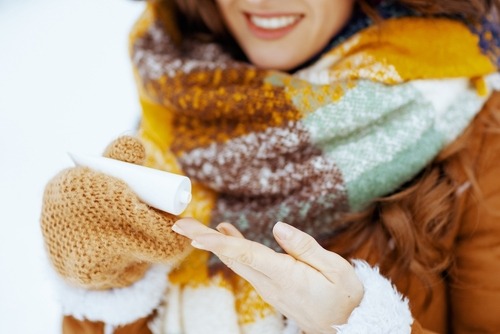 4. Lip Balm
Okaaay, another skincare travel essential many people forget to bring along for winter holidays is lip balm.
No matter where you're going on your cosy city break, we'd recommend packing some lip balm like Vaseline or Carmex to avoid chapped lips.
You don't want to be on your hols with dry and cracked lips due to the cold weather!
Chapped lips can be quite painful, and they're not really the best for your holiday pics.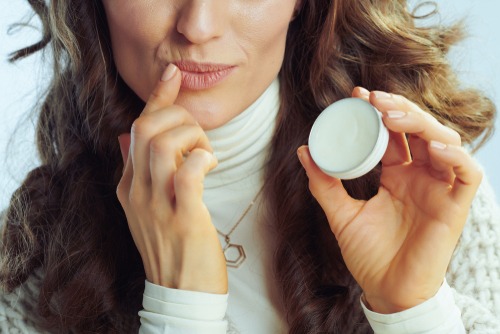 5. Medicine
When it comes to winter travel essentials for a get-away, a lot of people forget to bring medicine along with them.
As you'll know, we're more likely to become unwell and suffer from colds and flus during the Winter.
Keep your immune system boosted by packing some medicine such as cough medicine, cold and flu tablets, painkillers and vitamins.
This way, you don't have to head to the chemist if you feel a bit under the weather on your city break.
As you would with any holiday, remember to pack any prescription medicines too.
We'd also suggest packing some plasters within your suitcase just encase.
It's better to be prepared, and you'll save money too.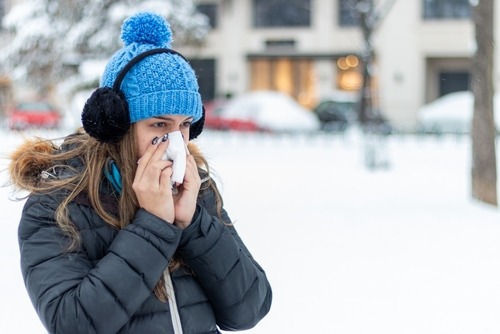 6. Hot Water Bottle
A further winter travel essential you need for your city break is a hot water bottle.
Whilst we're not saying the place you're going to be staying will be freezing cold, it can come in handy if you do get chilly.
This is especially important if you're staying in a winter cabin rather than a hotel, as they tend to be colder.
Hot water bottles can stay warm allll night so prepare to be cosy.
If you can get your hands on some heat packs, these also work wonders for keeping your hands, feet, neck and back warm.
Plus, you can dispose of them when you're done, which will save you some room in your case on the way back – bingo!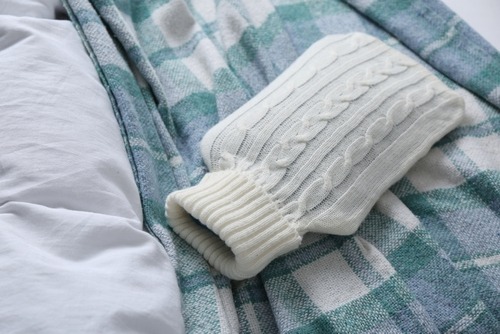 7. Scarf, Hat & Gloves
Now, onto clothing travel essentials you should pack for your city break.
Regardless of whether you're travelling to a city abroad or within the UK, you're gonna need a scarf, a good beanie or winter hat and a pair of gloves to keep yourself warm.
Whilst hats do keep your head warm, you can probably get away with not packing one if you don't fancy it or you're worried it'll mess up your hair.
We would strongly recommend you pack gloves and a scarf for winter trips though.
After all, our hands are the most sensitive to the cold, so you need to make sure you're keeping your hands nice and snug as you're exploring the city.
Remember that thermal flask we mentioned earlier? That'll also come in handy to warm your hands up too.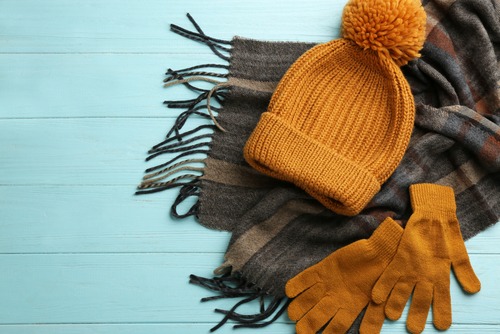 8. Fleece
Layering up is the way to do it for cold weather travel!
Fleeces are an ideal winter travel essential as they're often thick and fluffy which will give you that extra bit of comfort and heat you up as you're strolling around.
A fleece can really make or break your winter break so be sure to add it to your winter packing list.
They're super lightweight so if you do get a bit warm and want to take it off or vice versa, you can bring it along and pop it on if you get chilly.
No matter if you're bringing a zip fleece or a hoodie fleece, you'll thank yourself for packing this piece of clothing – trust us!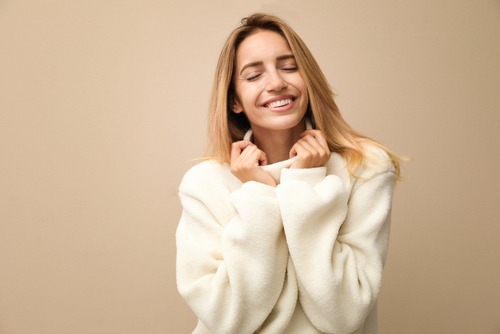 9. Waterproof Coat
Possibly the MOST important winter travel essential is a waterproof coat.
We know, it can be a pain to bring along a big coat with you but if you wear it on the plane, or whatever mode of travel you're using, you'll have more room in your suitcase.
The weather forecast for your city break might look okay, but you don't want to get there and it ends up chucking it down and you're not prepared.
So, don't stick with a jacket, play it safe and pack a proper waterproof coat to keep yourself dry.
We would recommend pairing your waterproof coat with another fleece or jacket if it's freezing temperatures where you're going, as water resistant coats can be slightly thin sometimes.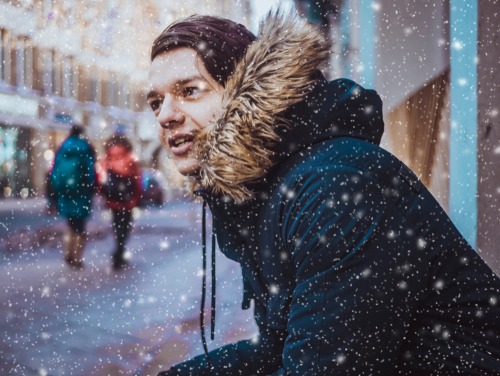 10. Leggings & Joggers
Next on your list of what to pack for your winter trip, you'll need heavier and more layered clothing to keep you warm.
A thick pair of leggings are an absolute godsend for keeping you toasty and they're very comfy for when you're doing loaaads of walking.
Whereas joggers are ideal for when you get back after a day of playing tourist, and you're chilling at your hotel or Airbnb.
Picture this, your pants are soaking wet, and you don't really feel like chilling in a pair of jeans.
You'll be glad you packed some joggers to relax in and stay warm at your accommodation!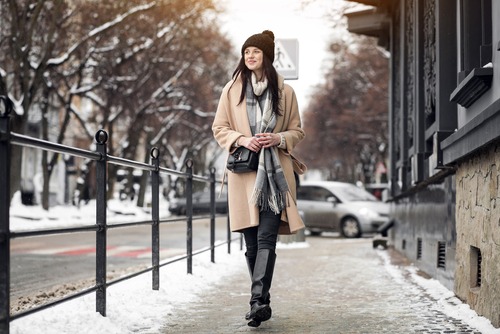 11. Non-slip Shoes
There's nothing worse than your feet getting soaked when you're walking around, is there?
It's an absolute pet peeve of ours, which is why we recommend ensuring you bring along some non-slip and weather resistant shoes.
A good pair of boots are ideal for your winter get-away, with a good pair of thick socks to keep your feet warm.
Whilst boots are quite heavy, if you wear them to the airport, they won't take up room or overweigh your suitcase!
We'd also recommend wearing in your shoes before taking them on holiday, so you don't get blisters from walking around.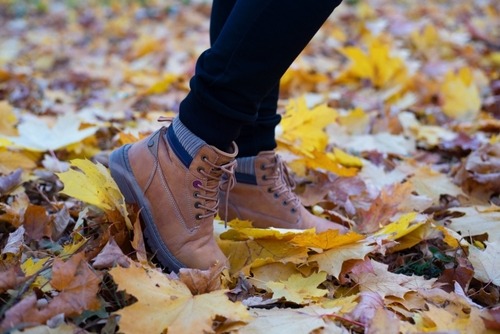 12. Backpack
Last but not least within our guide to winter travel essentials is a backpack.
We'd recommend bringing a small to medium sized backpack with you for your cosy city break.
This way, you can carry some of your other essentials around with you such as your thermal flask, fleece, scarf, hat and gloves.
If you're planning on only taking carryon luggage with you on your trip, then bring along a bigger backpack for you to put all your items in.
Although, just be careful with wearing a backpack when you're out in public as it can be a prime target for thieves.
To reduce the likelihood of pickpocketing, invest in a small luggage lock for your backpack!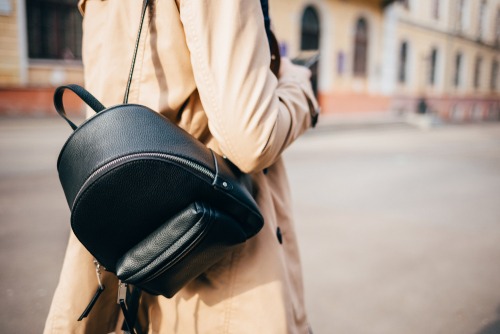 Our last packing tip is to remember to wear any bulky items to the airport so you can pack light.
That's it for us for in terms of winter travel essentials.
We hope this has been helpful for your next get-away, whether you're heading away for the festive season or at any point during the Winter months.
You winter travel packing list is boxed off – yippee!
Here at City Lodgers, we open up a whole world of travel experiences with our short-stay accommodations across the UK.
Are you searching for winter travel outfits? Take a read of our blog on 6 Ideas For Outfits To Wear For A City Break.