Autumn is well and truly here, the leaves have started to fall, the weather is getting darker and we're all feeling that much more colder.
It's no longer BBQ or picnic season, instead it's time to make some wholesome recipes indoors.  
Don't worry, we've got you covered with our 8 wholesome recipes that are perfect for the cosy season – you'll absolutely love them!  
Forget the cooking books, we'll give you the lowdown on how to make these meals with everything you need to cook up something good.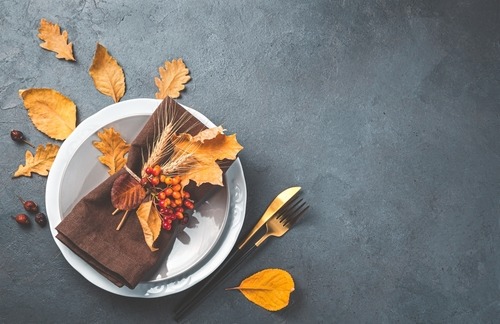 1. Apple Pie 
Apple Pies are a delicious, sweet treat ideal to cook up in Autumn – would it really be the cosy season without it?  
This traditional dish really is a comforting dessert to eat up after a long day, and it will serve up to 4 people.
Although, there's nothing wrong with keeping it just for you.  
Below is everything you'll need to make the fruity pudding, and your baking session will only take an hour max!  
Ingredients 
-225g plain flour 
-140g butter / margarine 
-3 large cooking apples 
-2 tbsp honey 
-pinch of cinnamon 
-pinch of mixed spice 
-1 egg 
-Crème fraiche, vanilla ice cream or natural yogurt (optional) 
How To Make It  
-Pre-heat oven to 200C/180C fan/gas 6. Make the pastry by sifting flour into a mixing bowl, add the butter or margarine. Use your fingers to mix. 
– Add 3 tbsp cold water, 1 tbsp at a time, to bind the mixture into a ball. Wrap in cling film and leave in the fridge.  
– Cut apples into even-sized chunks and into the pie dish, drizzle over the honey and add the cinnamon, mixed spice and about 2 tbsp water. 
– Roll out pastry on a floured surface until it covers the pie dish. Use rolling pin to lift the pastry and lay it over the top of the apple mixture. Trim off the excess pastry and press the pastry edges onto the dish.  
– Make a small cut in the pastry so that the air can escape during cooking, then brush with beaten egg.  
– Put in the oven for 20-30 mins until the pastry is golden and the apple filling is hot. Serve with crème fraiche, ice cream or natural yogurt (optional).  
2. Pumpkin Soup 
With Halloween on the horizon, we simply must feature an autumn recipe with a pumpkin twist. It might not be everyone's go-to soup, but we think it's delicious.  
This easy pumpkin soup can be ready in an hour and is ideal for a wholesome dinner watching films on the couch, or for a lunch time snack.
Plus, it will last for a while considering the recipe is for 6 servings.  
Find out what you'll need and how to cook up this creamy soup, which can be served hot or cold, depending on your liking!  
Ingredients 
-1 large onion, chopped 
-2 carrots, peeled and chopped 
-2 garlic cloves 
-1 bay leaf 
-25g unsalted butter 
-2 tbsp olive oil 
-1 medium pumpkin (deseeded and chopped) 
-1 medium-sized floury potato, such as Maris Piper, roughly chopped 
-1 litre vegetable or chicken stock 
100ml double cream 
3 tbsp pumpkin seeds 
-Salt and pepper  
-Croutons (optional) 
How To Make It  
-Place onion, carrots, garlic bay leaf, butter and half the olive oil into a pan. Cook on low–medium heat for around 10 minutes until vegetables are tender.  
-Add squash and potato, mix to combine and cook for 2–3 minutes. Add in stock, season and bring to boil. Reduce heat to a gentle simmer and cook for 40 minutes / until the squash is tender.  
-Pick out bay leaf and blend the soup until smooth.  
-Add the cream and a more stock if needed, taste for seasoning, adding more salt and pepper as required. 
-Heat the remaining oil in a frying pan over a medium heat and add the pumpkin seeds and fry until toasted.  
-Serve with cream, the toasted pumpkin seeds and croutons (optional).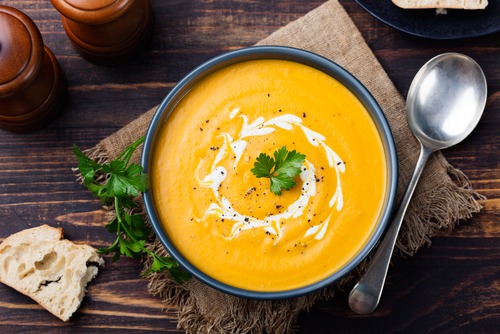 3. Butternut Squash Risotto 
Autumn calls for cooking up some tasty butternut squash risotto, which makes for a great main meal or a side dish to accompany another recipe.  
This risotto is so simple to make, you'll be making it all through the fall months! The best part is, it can be ready in less than half an hour.
You could even freeze it once you've cooked up this big portion to last for the remainder of the season.  
Let's get cooking… 
Ingredients 
-30g unsalted butter 
-2 tbsp olive oil 
-1 onion, thinly sliced 
-2 garlic cloves, finely chopped 
-280g rice 
200ml white wine 
1.1 litres vegetable stock  
1 small butternut squash, peeled, deseeded, cut into small cubes 
-Handful fresh sage leaves, thinly sliced 
-100g Parmesan grated  
-150g mozzarella 
-Salt and pepper  
How To Make It 
-Heat butter and half the oil in a frying pan. Add the onion and garlic and fry until softened. Add rice and fry for 1-2 minutes, stirring until coated in oil. 
-Add the wine and cook, stir until wine has been absorbed by the rice / evaporated.  
-Add a few ladles of warm stock, cook over medium heat until broth has been absorbed. Cook the risotto in this way for 12-15 minutes, or until most of the stock has been absorbed by the rice and the rice is tender but has a slight bite. 
– Continue cooking for 12-15 minutes, stir rice to keep it from sticking to the pan, adding a little bit of broth at a time, cooking and stirring until the liquid is absorbed and rice is tender. 
-Heat remaining oil in a frying pan on medium heat, fry butternut squash for 10-12 minutes, turning regularly, until tender and golden-brown all over. 
-Add in sage, butternut squash, Parmesan and mozzarella into the risotto. Turn the heat off, letting cheese melt. Season with salt and pepper.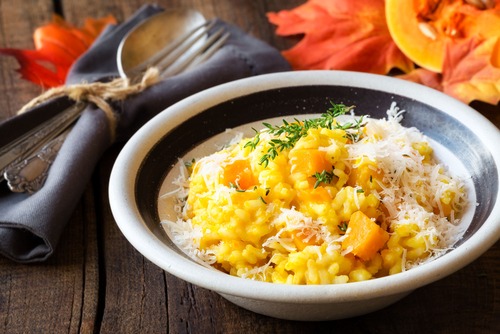 4. Cottage Pie 
Cottage Pie is the epitome of comfort foods in the UK, don't you think? There's just something about this savoury dish that gets us excited about teatime.
It might be slightly basic, but nonetheless it's bloody lovely!  
Although this recipe is going to be a ground beef filling topped with mashed potato, you can make a vegetarian or vegan option if you fancy It.
Take out the mince and have a hearty vegetable version or add in an alternative.  
Below is how you can make the perfect Cottage Pie.  
Ingredients 
-1 tbsp olive oil 
-1 onion, finely diced 
-2 carrots, finely diced 
-1 celery stalk, finely diced 
-1 garlic clove, minced 
-500g beef mince 
-1 tbsp tomato puree 
-400g tin chopped tomatoes 
-1 beef stock cube 
-1 bay leaf 
-100g peas 
-1 kg potatoes, peeled and mashed  
-50g butter, cubed 
-Salt and pepper  
How To Make It 
-Preheat the oven to gas 4, 180°C, 160°C. Heat half of olive oil in a large pan, sauté the onion, carrot, celery and garlic on a medium heat until softened. 
-Add the beef mince to the pan. Cook for 4-5 minutes and fry until the mince is browned. 
-Meanwhile, peel, halve and boil the potatoes for 20 minutes or until soft. Drain and allow to steam. Add the tomato puree, tinned tomatoes, stock cube, bay leaf and salt and pepper to the mince mixture. Add in water if needed.  
-Bring to the boil and simmer for 15 minutes, remove bay leaf. 
-Once potatoes have steamed, mash with salt and add in the butter until melted.  
-Pour mince mixture into an ovenproof dish and top with the mash. Bake in the oven for 20-25 minutes or until golden.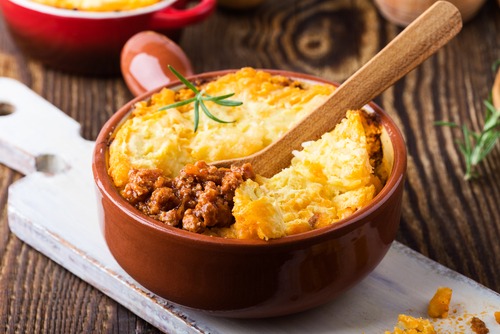 5. Thai Red Squash Curry 
This is one of our favourite autumn recipes due to the simplicity, there's only a few steps needed to make this gorgeous plant-based curry.
It's quite a healthy option too if you're wanting something light to scran in the evening.   
Invite your pals over and make this super flavourful and fragrant main course, and it can be ready in around 20 minutes – yes please!  
What do you need to make this hearty curry? Find out below.  
Ingredients 
– 3 tbsp red curry paste 
-2 tbsp coconut cream 
-400ml skimmed milk 
-3 spring onions, cut into short lengths 
-500g butternut squash, peeled and cubed 
-12 button mushrooms, halved 
-250g cherry tomatoes 
-Coriander  
-1 lime, cut into wedges (optional) 
-Red chilli chopped (optional) 
-Basmati rice (optional) 
How To Make It 
-Cook the rice for Heat curry paste and coconut cream together over a low heat in a deep-frying pan, stirring occasional. Add in the milk, stir well, and bring to simmer. 
-Add in spring onions and butternut squash cooking for around 10 mins, until the squash is tender. Add in the mushrooms and tomatoes, simmer for 5 mins. 
-Sprinkle over the coriander and serve with lime wedge, chilli and rice if desired.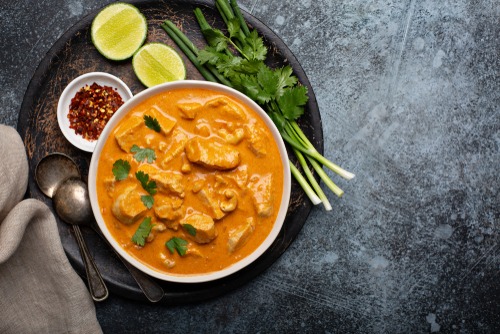 6. Cheesy Chicken and Broccoli Pasta 
This autumn recipe is a cheesy pasta bake stuffed with chicken, broccoli, and cheddar.
We cannot get enough of cheesy casseroles, they're just so good and that cheese pull – chefs kiss! 
If you're craving something tasty without having to do too much prepping, this one's a real deal breaker for any night of the week.  
This dish can be ready in 30 minutes unless you want to add some garlic bread (who doesn't) Here's what you'll need to get started…  
Ingredients 
-350g penne pasta  
-200g broccoli, cut into small florets 
-2 tbsp olive oil 
-350g boneless, skinless chicken breasts, thinly sliced 
-175g chestnut mushrooms, quartered 
-4 tbsp sundried tomato paste 
-80g soft cheese with garlic and herbs 
-284ml carton single cream 
-85g mature cheddar  
How To Make It 
-Heat the oven to 190C/ fan170C/ gas 5. Boil pasta shells in a large pan of salted water.  
-Add in broccoli and cook for 5-6 minutes until the pasta is just cooked. Drain well, then return to the pan. 
-Add 2 tbsp olive oil in a wide pan, add in chicken breasts and fry until lightly browned. 
-Add chestnut mushrooms and stir fry for 1 minute, then stir in tomato paste, soft cheese with garlic and herbs and single cream. 
-Stir until cheese has melted to thicken the sauce. Season with salt and pepper. 
-Pour the sauce over the pasta until coated, then pour into an ovenproof dish  
-Pour over the mature cheddar, finely chopped garlic clove and bake for 20 minutes until golden.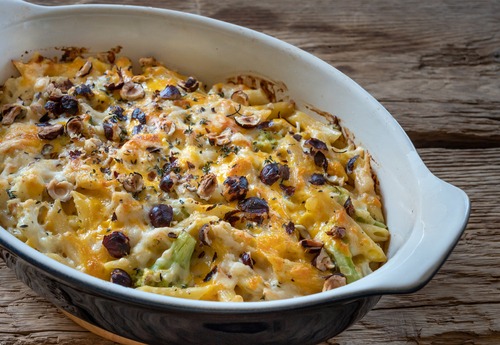 7. French Onion Soup 
This next Autumm recipe has certainly been doing the rounds on TikTok, so of course we had to feature it within our guide.  
It's one of the best soups EVER, and a hot bowl of it pairs well with some crusty buttered bread on a rainy day, or whenever really.  
You don't need too many ingredients for this one, and it's pretty straightforward to cook up.
Find out how to make it below – you're welcome!  
Ingredients 
-50g butter 
-1 tbsp olive oil 
-1kg onions, halved and thinly sliced 
-1 tsp sugar 
-4 garlic cloves, thinly sliced 
-2 tbsp plain flour 
-250ml white or red wine 
-1.3l beef stock 
-1 cup grated Parmesan cheese 
-Salt and pepper  
-Crusty bread (optional) 
How To Make It 
-Melt the butter and olive oil in a large heavy-based pan. Add the onions frying with lid on for 10 mins until soft. 
-Sprinkle in sugar cooking for 20 mins, stirring frequently, until caramelised. Add garlic cloves and sprinkle in plain flour.  
-Turn up heat and keep stirring, gradually add the wine, followed by the beef stock. Cover and simmer for 15-20 mins. 
-Serve with parmesan cheese and crusty sliced bread (optional).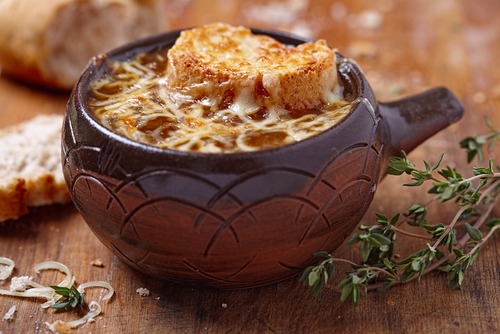 8. Roasted Sausage Traybake 
Lastly within our autumn recipes post is our roasted sausage traybake with potatoes, mmm! 
It's super easy to cook up as you literally add everything into one dish so, don't worry about making too much of a mess come dinnertime.  
It can't get much more British than this meal, here's how you can try it at home. 
Ingredients 
-2 tbsp olive oil 
-2 large onions, sliced into wedges 
-2 red peppers, chopped 
-2 garlic cloves, chopped 
-1 tbsp chopped fresh thyme leaves 
-500g baby new potatoes, halved 
-12 sausages 
-200ml white wine 
-Salt and pepper  
How To Make It 
– Preheat the oven to 220C/200C Fan/Gas 7. 
-Place all the ingredients in a large bowl and turn the ingredients until they are fully coated in oil. 
-Tip into a large cooking tray, spreading the ingredients out evenly. Season with salt and pepper. Roast for about 30–35 minutes until golden-brown. 
-Take out from oven, turn sausages over and toss the vegetables in the cooking juices. Pour in the wine and return to the oven for a further 20 minutes or until browned.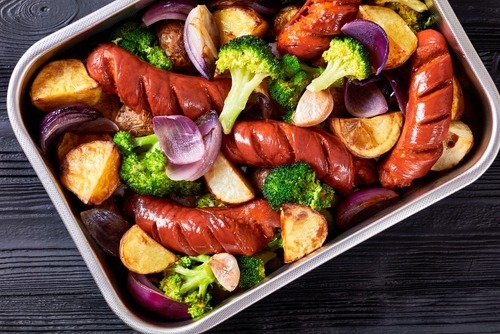 So, did you fall in love with those autumn recipes as much as we did? They're so yummy, go and try them for yourself.
Forget about ordering in to your student accommodation when you've got these easy warming dinners to cook up.  
Read next: Top 8 Quick And Easy Vegan Meals To Cook After A Busy Day.