Argh is there anything worse than coming home from work and having to cook tea, you just want to sit and relax and the temptation to order a takeaway is real – stop right there!
We've put together this food guide to help you out in the kitchen, with 8 quick and easy plant-based meals to cook for dinner after a busy day.  
Don't worry, were not gonna leave you hanging, we've included how you can cook each one so you can become a chef in no time with these quick dinner ideas!
Blow your housemates or partner away with your tasty scran, which will be ready in a jiffy.
Here we go, let's get our foodie on…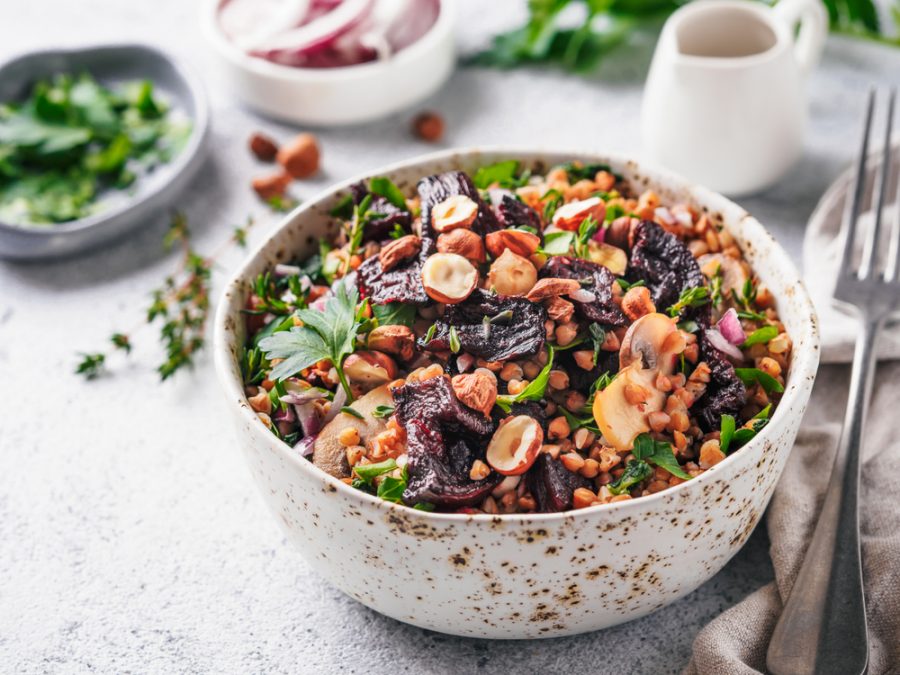 1. Chickpea and Spinach Curry
Who doesn't love a gorgeous chickpea curry?! There are tons of variations you can make when it comes to chickpea curries and they're super tasty as well as being quick and easy to make.
See what tickles your fancy or check out this 10-minute chickpea and spinach curry recipe below!
Ingredients
-Chickpeas
-Spinach
-Garlic
-Onion
-Tomatoes
-Coriander (this is optional)
-Spice mix – Salt, Pepper, Cumin, Paprika, Curry Powder, Cayenne (use your favourite spice blend).
How To Make It
-Cook your onions in a pan with oil and then add your garlic
-Add in your spice mix and stir them
-Add in your chopped tomatoes, chickpeas and salt & pepper to the pan
-Lastly add in the spinach and coriander
There we go, you'll absolutely love it – mmm yum!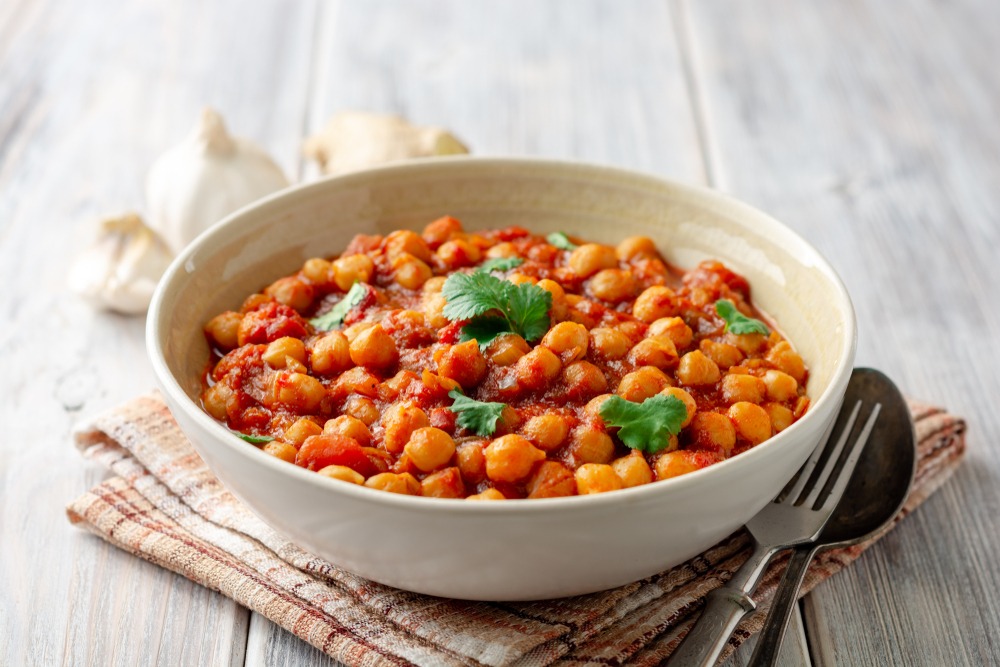 2. Vegetable Stir Fry
Stir Fry is one of the best foods, its super yummy and you can use up all your veggies in the fridge and quite literally stir fry them, add them with noodles and there you have it!
No seriously, we have a delicious recipe for you to follow below, you'll love it and it will only take about 15-minutes to cook – not bad right?!
Ingredients
-Onions
-Garlic
-Mushrooms
-Ginger
-Peppers
-Soy sauce
-Salt & Pepper
-Noodles
How To Make It
-Cook your onions in a wok with oil and add garlic and ginger
-Add in your pepper and mushrooms
-Add in your soy sauce, salt and pepper
-Boil your noodles and add them to the wok, stir it all together
You're all done, your stir fry is ready and waiting – you go Gordon Ramsay!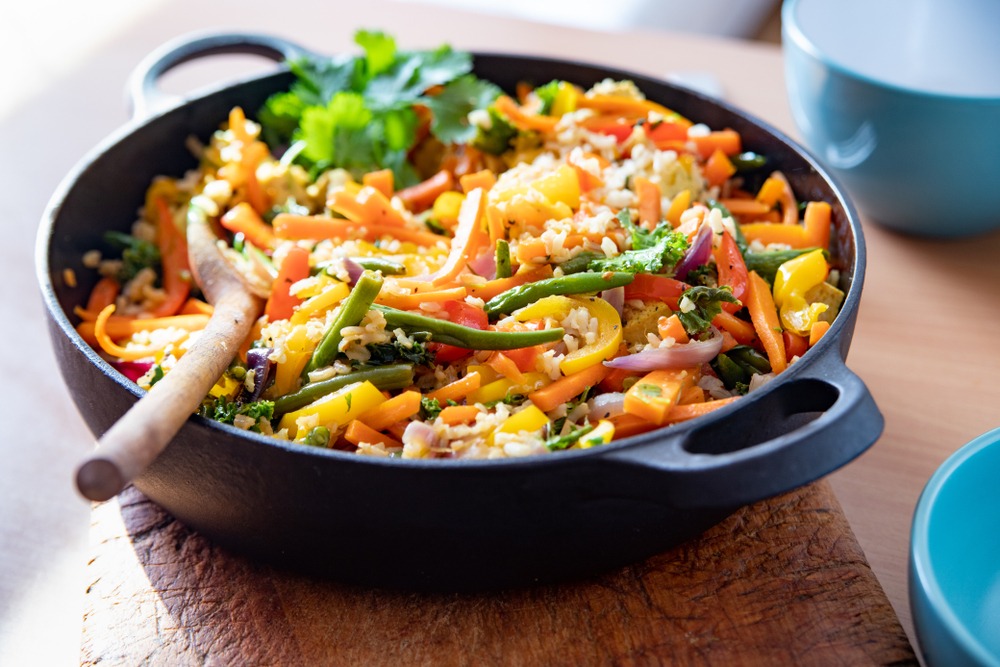 3. Vegan Spaghetti Bolognese
We don't know about you, but we absolutely live for a bowl of spag bol and it's something we really look forward to eating after a busy day!
This classic dish turned vegan is so quick and easy to make so you'll be able to chill and unwind after your tasty scran.
We've got a recipe JUST for you below which can be ready in as little as 15-minutes.
Ingredients
-Spaghetti
-Onion
-Garlic
-Red pepper (optional)
-Tomato puree
-Vegetable Stock cube
-Oregano
-Red pesto
-Vegan Mince
-Cheese of your choice
How To Make It
-Boil your spaghetti
-Add garlic, onions and pepper to a pan with oil
-Add your vegan mince (Quorn, or whatever floats your boat)
-Add vegetable stock, 2 tablespoons or red pesto, tomato puree and oregano
-Grate cheese on the top
Voilà, your vegan spag bol is ready for you to eat!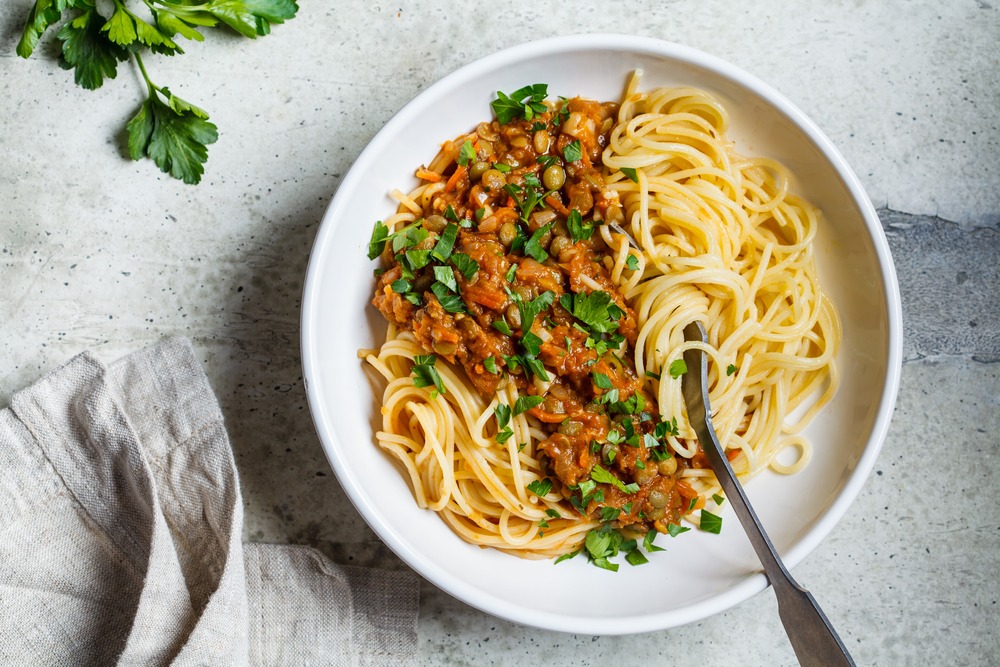 4. Vegan Tacos
Tacos are super delicious and so easy to make, so if you're wondering what you can cook after the day is over why not follow this yummy recipe?!
We LOVE Mexican food, and even more so the fact this plat-based dish is super healthy and ready in 10-minutes.
Ingredients
-Kidney beans
-Chopped tomatoes
-Tomato puree
-Lettuce
-Onions
-Sweetcorn
-Taco shells
-Paprika, salt & pepper
How To Make It
-Add the kidney beans to a pan and start cooking
-Add the onion, paprika, salt & pepper
-Add in the tomato puree and stir
-Cook the taco shells
-Serve with sweetcorn, lettuce and chopped tomatoes
Yummy, we can't wait to try this one, can you?!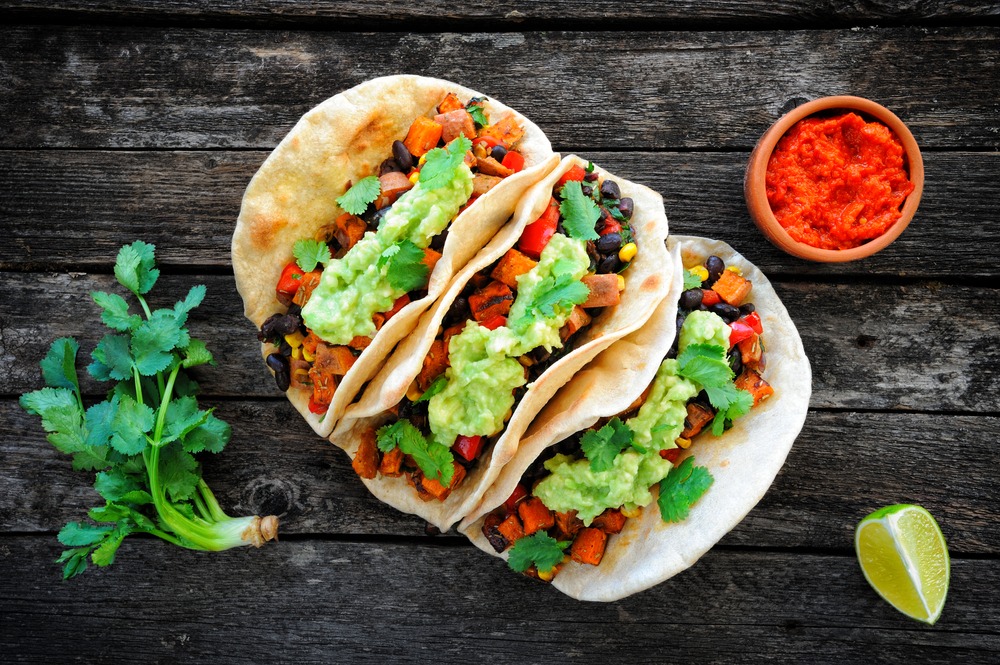 5. Pasta Salad
Pasta Salad is great any day of the week, you only need a handful of ingredients for a delicious tea! Pasta AND salad it can't get much better than that, get inspired from this vegan recipe below.
All's you have to cook is the pasta so its super quick and ideal for an after work dinner!
Ingredients
-Pasta of your choosing (ours is penne)
-Onion
-Pepper
-Tomatoes
-Fresh parsley
-Black olives
-Salt, pepper and sugar
-Oregano
-Olive oil
-Balsamic vinegar
-Garlic powder
How To Make It
-Boil your pasta
-Chop your veggies
-Make dressing with olive oil, vinegar, garlic sugar and oregano
-Combine the pasta, veggies and dressing serve with parsley
We're getting hungry just thinking about this Pasta salad – we hope you LOVE it!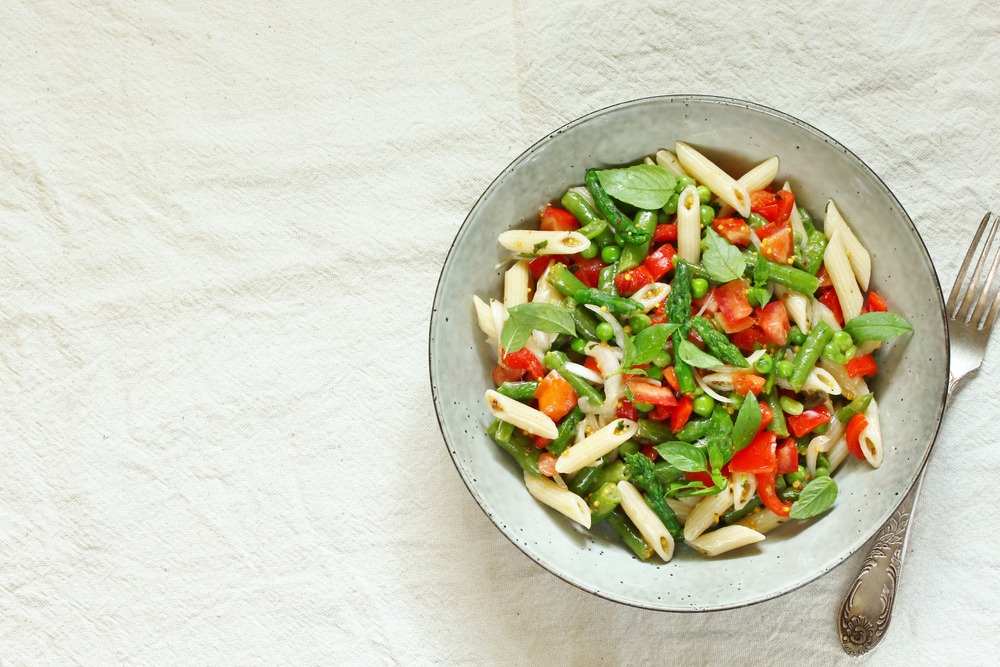 6. Tortilla Pizza
We couldn't not include this one, it's one of the quickest and pengest dinners about – tortilla pizza!
You can literally make this meal in 5-minutes, just run in from work and grab a tortilla wrap and your veggies of choice and favourite pizza toppings. We've got a recipe for you to follow below.
Ingredients
-Tomato Paste
-Olive Oil
-Garlic Powder
-Onion Powder
-Italian Seasoning
-Salt & Pepper
-Vegan Cheese
-Flour Tortillas
How To Make It
-Whisk together tomato paste, water, olive oil, garlic powder, onion powder and Italian seasoning
-Season with salt and pepper
-Spread on tortillas
-Add toppings and vegan cheese
-Bake in oven
We told you, its super easy and quick! No faffing here, and it's really tasty. Why not make it for your next teatime after a long day of being out and about?!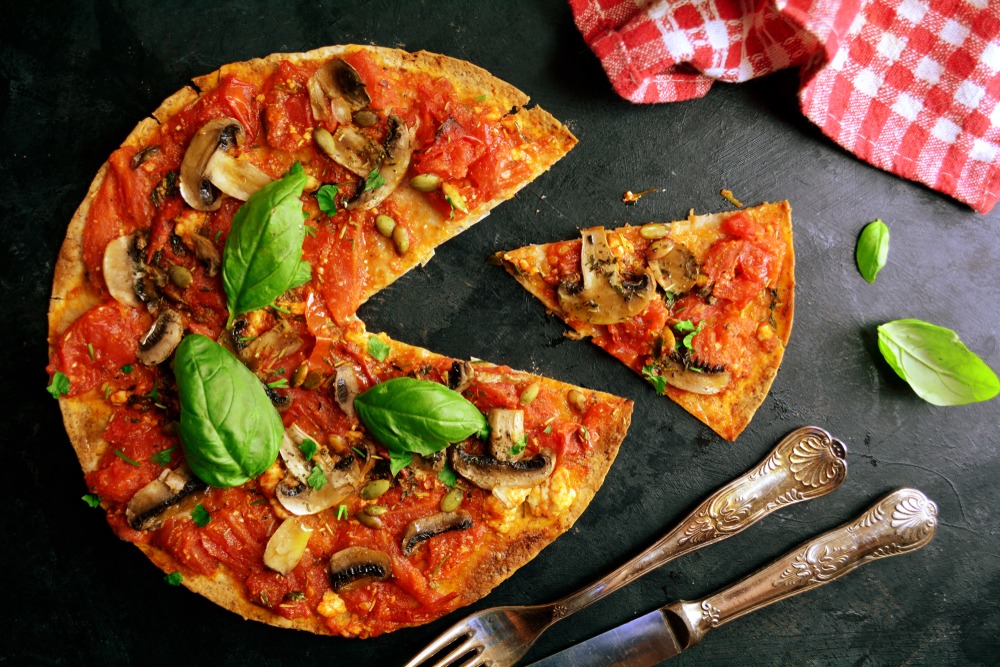 7. Lentil Soup
We live for creamy vegan soup, it's just so nice and a proper comfort food (especially during the cold weather).
If you're keen to find a quick and easy lentil soup recipe, then carry on reading cos' we're here to help you cook up a storm!
This three-step meal only takes 15-minutes to cook – woop woop soup (sorry about that).
Ingredients
-Olive oil
-Onion
-Carrots
-Red lentils
-Vegetable stock/broth
-Dairy free vegan milk
-Ground cumin
How To Make It
-Cook onions in a pan with oil
-Add in carrots, lentils, stock, milk and cumin
-Mix using food processor or blender, add water if necessary
There you have it, your soups ready – we hope you enjoy this recipe!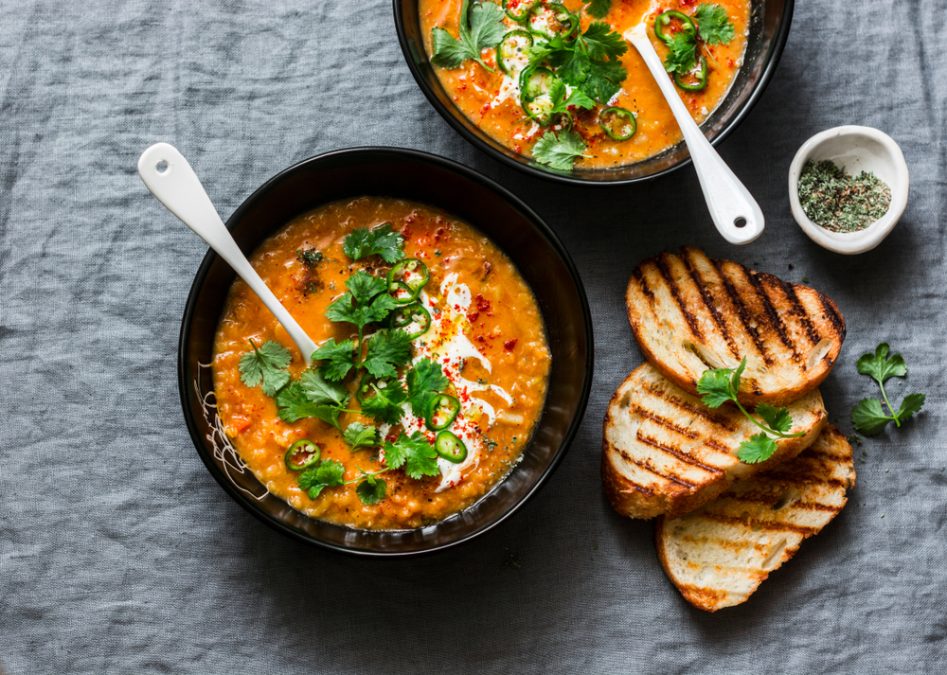 8. Linguine With Avocado
If you're looking for a low-calorie, quick and easy pasta dish for dinner then this is the one for you!
This linguine pasta with avocado, tomato and lime is just superb, you'll be loving your cooking sessions with this recipe up your sleeve.
Ingredients
-Linguine
-Lime
-Avocado
-Chopped tomatoes
-Fresh coriander
-Onion
-Red chilli (optional)
How To Make It
-Cook the linguine pasta
-Squeeze lime juice and mix with chopped avocado, tomatoes, coriander, onion and chilli (if you want a spicy flavour)
-Mix together and serve
There we go your linguine pasta is all sorted – yummy yummy, talk about flavour!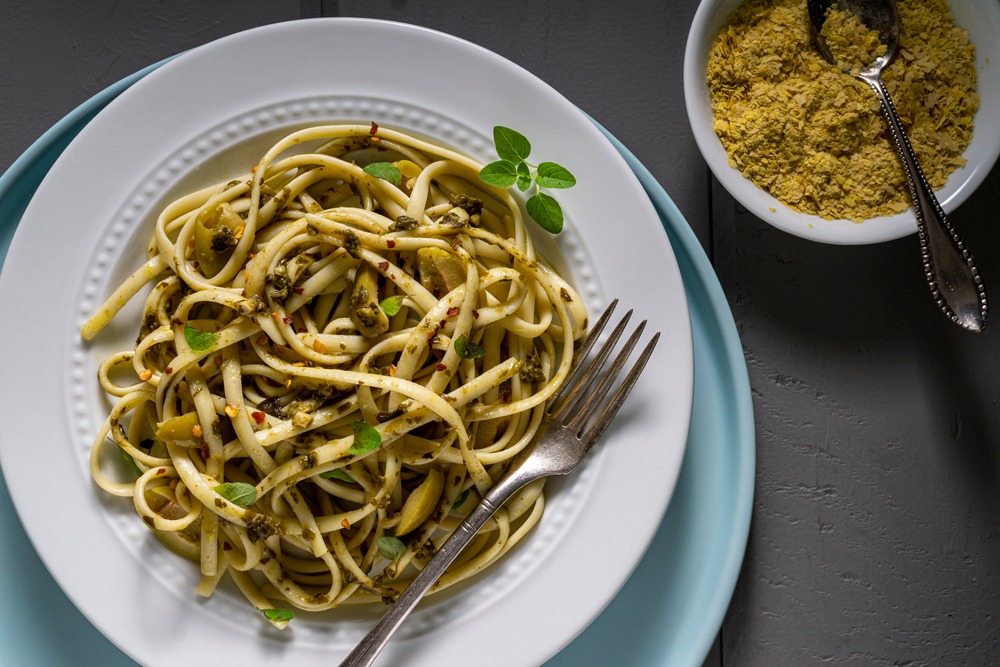 That's it, the end of our post on quick and easy vegan meals to cook after a long day. We hope we've inspired you with what you can cook up when you get home from work or a long day of exploring, perhaps when you get back from a city break.
Trust us, you'll enjoy cooking these easy vegan recipes! They're lovely and so simple to prepare and cook – try them out for yourself!
Having a vegan lifestyle or eating plant-based dishes doesn't mean you have to spend lots of time in the kitchen after all.
Looking for a get-away with your partner but unsure what the most romantic city breaks within the UK are? Well check our blog here